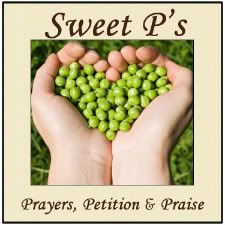 (Turn off music player at bottom of page before playing.)
Tu fidelidad is grande. Tu fidelidad incomparable es. Nadie como tu bendito Dios. Grande es tu fidelidad.
Your faithfulness is great. Your faithfulness is incomparable. There is no one like You God. Great is Your faithfulness!
I praise You for who You are...that You are faithful and can be trusted. I thank You for showing us yet again this week just how great Your faithfulness is...in my precious niece and great niece's lives, in my daughters' lives, in my own life. How could I ever doubt You, Lord? Yet, so often I do.
My heart is rejoicing at the way You have answered so many of my prayers this week...sometimes exactly as I have asked, sometimes above and beyond anything I could have ever have asked for or imagined, sometimes in a way I would not have hoped, but always in a way that was absolutely perfect, in accordance with Your will for our lives. Yes, Your faithfulness is incomparable!
My heart is also heavy with burdens of so many friends who are hurting with various things right now. I think of S & R, sifting through the news that the cyst on his brain is once again filling up with fluid...the surgery they hoped was going to cure him didn't. I think of D, still in such excruciating pain, more than six weeks after her surgery. I think of my sister, having major surgery today, due to a second battle with cancer...a new form of cancer...after being cancer free for five years. I think of B, in the hospital, recovering from a brain injury caused by a head on collision by a drunk driver.
My heart breaks for C, J, M, S all struggling with deep, painful relationship issues...all with wounds so deep they find it hard to move forward in community with other believers...wounds that threaten to destroy them and the ministries You have for each of them. Then there are D and J who lost two dear loved ones in their family this past week and the pain they are both experiencing right now. I think of far too many to name, who are struggling with the emotional pain of rejection, abuse, divorce, and more...deeply wounded hearts.
You tell me in Your Word that when I am weary and carrying a heavy burden that I can come to You. You tell me to cast all of my cares upon You. You tell me not to be anxious about anything but in everything, by prayer and petition, with thanksgiving to present my requests to You. You tell me to ask, seek, and knock. And so, that is what I am doing. I am once again, bringing my heavy load and laying it at Your feet, asking You to work on behalf of each of my dear friends and family members; seeking wisdom for any involvement You would have from me.
How reassuring it is to know that You never get tired of me asking, seeking and knocking. You are never bothered or perturbed when I come to You with the same request over and over again. When You bring them to mind, I simply lay them before You, as often as the burden is on my heart. But, I never need to pick them up and carry them again. For I am laying them at the feet of my God who is faithful...and can be trusted. I don't have to take these burdens up again because I know I can trust YOU with each and every one of them.
Your love, O LORD, reaches to the heavens, Your faithfulness to the skies. (Psalm 36:5)
"Know therefore that the LORD Your God is God; he is the faithful God, keeping his covenant of love to a thousand generations of those who love him and keep his commands." Deuteronomy 7:9